About Desirée?
Desirée was my sockpal, and boy, am I lucky!
Last night my husband brought in this innocent looking little box:
I was feeding the Bug, so I figured it was just the dyes I'd ordered, and didn't get too excited. Then he read the label. YAY! SOCKS!
But there was so much, I couldn't believe it: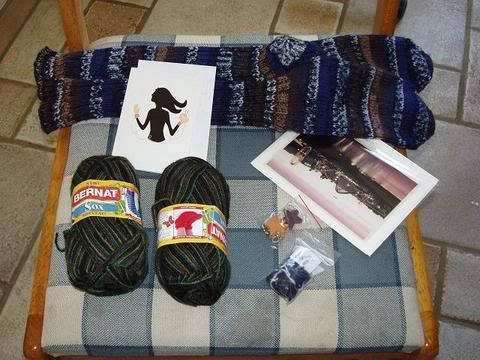 A lovely photo card, a hand-written note, two stitch markers my sockpal made herself (cute little wooden stars), some of the sock yarn for mending, two more balls of the same yarn in a different colorway, and (not pictured) a chocolate bar.
The chocolate bar didn't make it past breakfast this morning.
And here they are in all their glory: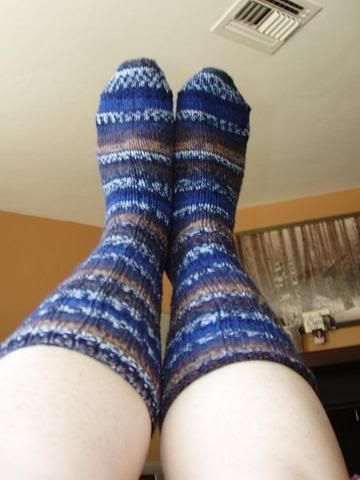 Note the cool heel, which you can't really see in my lousy picture: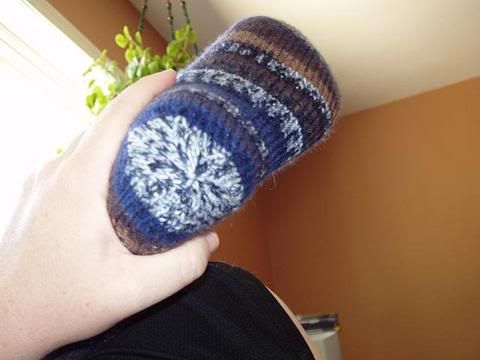 It makes this neat star pattern with decreases toward the center of the heel. I gotta find out how to do that heel. I kinda suspect it's the peasant heel style, where the heel is added on after the rest of the sock is knit. You know, because of all the extensive experience I got knitting those two pairs of socks in my WHOLE life.
I feel a little guilty for not including all the extras in my sockpal's package. This being my first swap, I was unaware of the unspoken "must add extra goodies" rule. I hope she's not too disappointed - I will do better next time, and I can't wait for the next swap to begin!
Thanks again,
Desirée
!