I finished the punkin hat and the
tomato hat
over the weekend. I wanted to get more and more knitting done, but I ended up casting on for that blasted tomato hat about 4 times. (Note to other knitters: there are corrections to the pattern in the comments below the pattern.)I had also made a
squash leaf
, but it was clearly for a much bigger punkin than I'd made, so it was as long as the hat is tall. I believe a second, larger punkin hat is in order.
Anyway, here they are: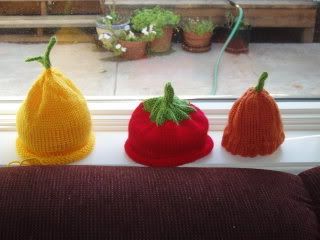 Obviously, the punkin is for a newborn or a preemie, cuz holy cow it came out tiny.
And here is the Bug, modelling the tomato. It's a little small for him, but he has a big head.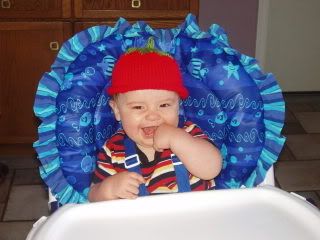 And now I will go pretend to work, while trying to keep my eyes open. The Bug has been cutting a new tooth or two, and has been unhappy all weekend. This is the first time teething has caused him discomfort, so it's new to me. I can't say that I am fond of it.