Hooray! I finished four things since last I posted. First and foremost, I'm halfway to finishing the sockpal socks! One down, one started. Also, I whipped out three squares for
Grace
and Simone. I still have quite a bit of yarn left, so I'd like to do several more. If I could find a good stitch dictionary, I'd have no problems, but I'm kinda coming up with these on my own. Here is a shot of all four items, posing with my geranium and Fluffy's toes: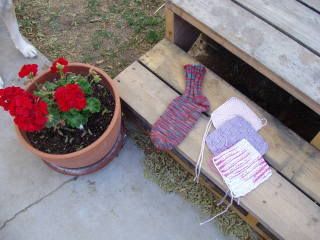 (There was a time I didn't think that poor geranium would make it, but just look at it go!)
Here's a closeup of the sock and a better view of the ribbing. It didn't come out quite the way I'd envisioned, but I still like it. It may look more like I'd intended once I block it. This picture shows the truest colors for this yarn.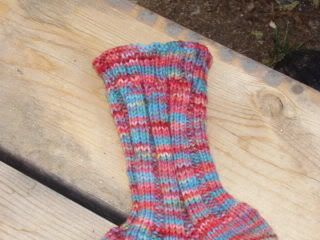 This picture shows the items a little better, and you can see the three different Gracie blocks better. The pink and purple are JoAnn Sensations, Belleza Collection,
Tesoro
, 100% wool and softer than soft. The variegated is Bernat CottonTots, and I must say I'm not entirely a fan. I did like the way the colors arranged themselves... Love that wool, though - I'll use that again.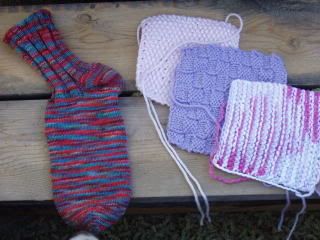 And here's a picture to show you that common household items can be used for knitting or fibery pursuits: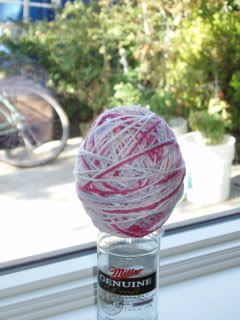 Using the top of a beer bottle to wind center-pull balls. It works
great
.