Yes, it's true. I believe this lacy stuff with the YOs and the k2togs is kinda maybe sorta okay. I knitted all weekend on my stole, and with the exception of one incident that required frogging (half a row, oh thank you lifeline) it went very smoothly. I am not terribly afraid to type that, because I view it like this: every six rows, I make an offering to the knitting goddess. The offering is the time it takes me to pull out one of the old lifelines (I'm alternating two) and reinsert it. I offer this time to the knitting goddess, who then ensures that, since I am showing her the proper humility, the rest goes reasonably well. As long as I continue with the offering, the knitting goddess will continue to regard my stole with favor. Let's see if the photography gods were as kind: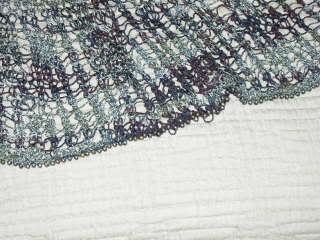 I don't think the color changes in this yarn are as obvious in real life as they are in those pictures.
I started the second full ball over the weekend too. I'm not sure how much I have left - I bought four balls, and used part of one to knit Frill #1. The second ball I used completely, starting with Frill #2 and up through the body. I've only used a few yards of the third ball as yet. I did a felted join, and I love the way it came out. I can barely see it myself, and I know where it is. YAY! I have 21 inches done (plus the 7ish of the second frill). 60 inches, give or take, left to go! DH and I will be heading out to the beach for Memorial Day (cannotwaitcannotwait) and this is light enough for some beach knitting. I hope to get maybe two feet more done by this time next week. That would make me supremely happy.
Today's conference call knitting: green handdyed socks.