Okay, so my mom listened to lots of show tunes, and I can still sing most of them all the way through. So?
Anyway, it's the Month of Green. Since I have none of the green that allows me to buy more yarn (I don't even have a green credit card) I have to show mostly non-yarny things.
First, my favorite thing of all:
Green pillow, green blankie, green binkie.

Some yarny goodness. (I think I need a bigger stash.)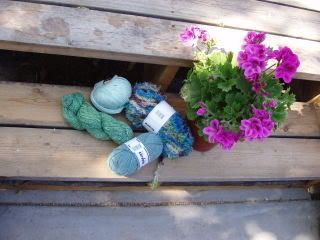 A view of my backyard. Pretty green for the desert, no?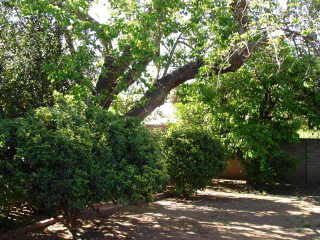 I had a picture of my green bike on the trainer, the one on which I intend to ride away the pounds. However, I could not get the photo to upload. Apparently, the universe has decided that I should not make any promises with regard to that bike. It needs a cushier seat, and someplace to hang my yarn while I'm pedaling.

Some beautiful stitch markers, by Rabbitch. (The photo just doesn't do them justice.)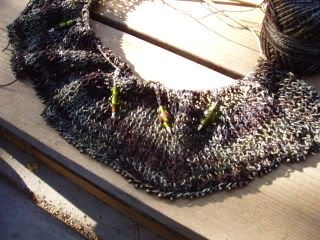 A pretty green dragonfly chime.