Well, yesterday morning I showed you what my Mother's Day looked like. Sun, pool, waffles, babies, all the usual good stuff.
Then in the afternoon I sat down to read my blogs, and came across this:
Grace's boyfriend,
Justin
. Little Justin is gravely ill, and he needs a blue blankie to match Gracie's pink one. I mean it, there oughta be a law. It's a Wrong so Wrong in the universe when babies are sick and suffering. (Do you hear me, Israeli Supreme Court?)
Oooh, politics.
Anyway, I knit like a fiend: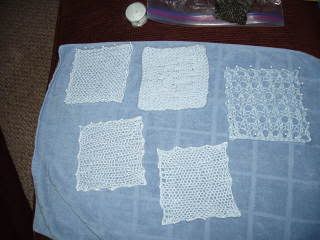 Five blue squares for Justin. This is that JoAnn Sensation Tesoro wool, which I love. I discovered, though, when knitting Grace's squares, that this is apparently the AntiWool. It GROWS in hot water. Yes, it really does. Some of my Grace blocks grew an inch in both directions. So I knit them small. A couple were maybe too small, and now look a little lacier than intended. Oh well. If Cynthia doesn't need them or they don't work, she can use them for coasters or give them to the dog.
They go in the mail today, knit with love and prayers and tears of sadness for Justin's mom, and gratefulness for me. I only asked for one little miracle, Justin-sized.