But I'm not ready to share it yet. I hope it will be ready this weekend.
In the meantime, I have been knitting a sock with my first Bearfoot. Moose Creek colorway. Pattern my own, inasmuch as a sock with a stitch pattern slapped on it can be considered mine. I took a picture because my blogless buddy Tracy wanted to see it.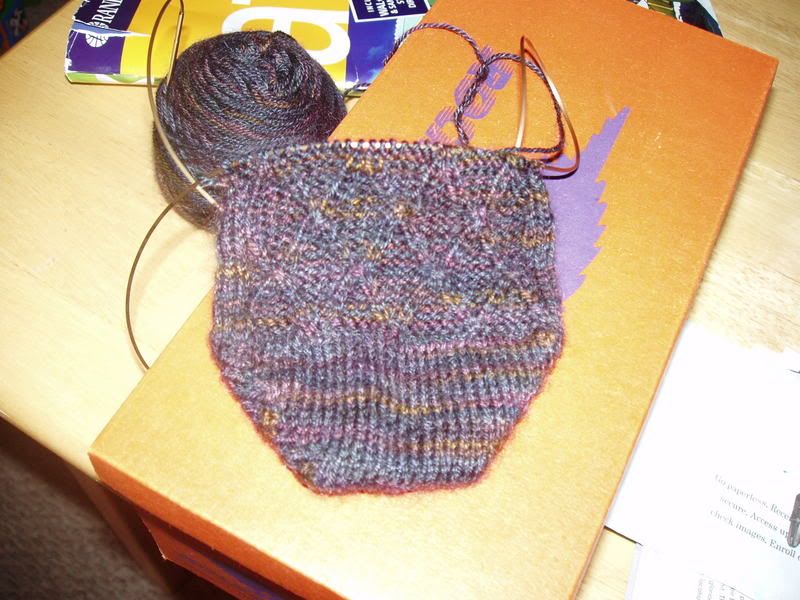 Happy feet
This picture is in no way representative of the actual color of this yarn. It's deep blues, purple, black, green, with a little tan thrown in for good measure. Extremely soft, nice to work with, stretchy and squishy. All the things good yarn should be. I am also doing this sock using the Magic Loop technique, and I must say I'm enjoying it. I like having to keep track of only two needle tips.
I've taken the extra-long way home the last two days too, and I've enjoyed it. Well, except for that first bit when I leave the office and think about how much sooner I could be home, if only I would go the short way... But the walk is lovely, I listen to music and look for landscaping ideas in yards I've never noticed before, I walk through the park, and I arrive home feeling great. I've had DH drop me off about a block from the office on the way in the morning, so it rounds out my walking for the day to just over two miles. If I think of it, one of these days I'll bring my camera and show you what my walk looks like.
Tuesday:
2.1 miles walked
Today:
2.1 miles walked