I really don't have much else, but Stacey wondered about my radio silence and thought maybe it was because my man was home, but we can't have her thinking that. (Actually, it is partly due to that - I haven't done this many dishes since, well, before he left. How the man can use every pot, pan, utensil, dish, and flatware cooking two meals for 3 1/2 people I will never know. He thinks he's a tidy cook.)
No, I did spend what felt like ages in the unemployment office, only to find out it was really the welfare office and the unemployment office was next door with no waiting. I would have been really pissed if I'd waited that whole time to have my number called (there were 20+ people ahead of me and they managed to help about 10 an hour, based on what I'd heard yesterday) only to find out I was in the wrong place. Then when I went to the unemployment office (with the letter that said, "You must appear in person and bring this letter with you") the guy said, "Oh, that just meant your job service log in didn't match, but you coulda fixed that online."
o.0
And also, there seems to be a serious shortage of operators in the unemployment call center. That call took 35:01 minutes (seriously, how did I survive without a phone that told me how long I was on hold?), of which 3 minutes were spent with an actual person.
When I'm in this kind of pissy mood, I should not watch
movies
with sweeping views of the mountains, old crabby ranchers, Morgan Freeman, and down-on-their-luck women and kids. Seriously, I could just about kill myself, if I weren't so lazy. (And also, I think it might hurt, and I don't do pain much.)
And since I'm about to bore the rest of you (the one or two of you who've managed this far without clicking away in disgust) to death, I will spare you further rantings and give you instead, fiber and babies and little boys who are way too little to be riding bikes and who told them they were allowed to grow up so damn fast?
(Click these for short videos of teh cute.) (ETA OMG turn off your volume for the Squeak one because OMG I SWEAR that is not my real voice.)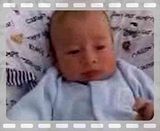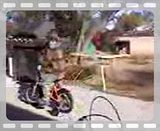 (Slippin Stripin sock the first, from this month's PSC, a seriously entertaining knit. Yes, that is laceweight, doubled.)
(Bobbin of hopefully 1/3 fingering weight singles, from the Birthday Batt that Blogless Lynn made me.)
(The rest of the first half of the Birthday Batt.)
Speaking of Blogless Lynn, see
this article
. That's my preferred LYS pictured, that's the woman who taught me to spin (Jill Holbrook, holding the lovely sweater), and that's Blogless Lynn in the back of the last photo. Woohoo!