Yes, two posts in one week, it's amazing!
I took a brief moment to download my photos. Now, I know that it's cheesy to take a bunch of sky pictures for Project Spectrum's blue month, but really, I think these are some cool skies.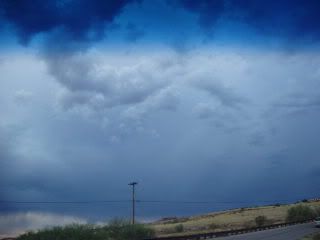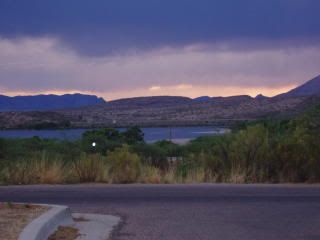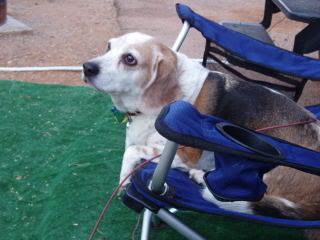 A still life: Neighbor's dog in blue chair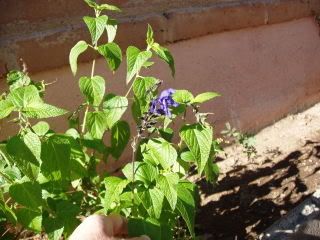 Black-and-blue sage (which is actually purple)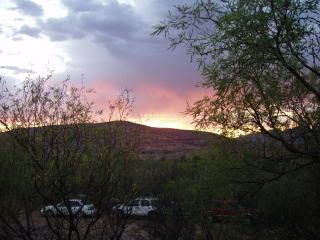 A sunset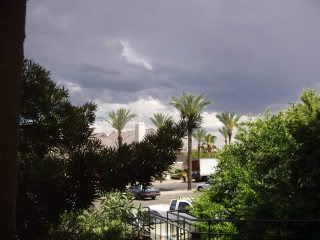 A tiny bit of blue sky - gotta look closely
Sonnet in blue
I got sonnet out Tuesday to take to SnB. Frill isn't SnB knitting for me, and I was kinda bored with my two socks on two circs. I'd intended to start Bombshell from
Big Girl Knits
(GREAT book) but the yarn I wanted to use is sport weight, the pattern calls for worsted, and I was too lazy to do the maths. I will work it all out later. Maybe I'll just do the wrap sweater instead... Anyway, I got sonnet out and switched it to my Addi 8s and knit away, happily. I am most of the way across the back, with maybe only an inch or two till I shape the armscye. (That's a word from Eunny - according to Answers.com it just means "armhole".) I'm not sure how far I need to go now - I finished the last pattern row last night, and now need to check my pattern. It really is a pleasure to knit. I love the needles, I love the color, I love the feel of the yarn (Patons ribbon something - it's discontinued). I can't wait to buy buttons for it. I can't wait to finish this puppy to wear it. I think it will be a little big, which is how I'd pictured it. I like cardigans I can cuddle up in. I'm happy to have this out again; I'd forgotten how much I enjoy it.