This post has nothing to do with Elton, but I have that stupid SaturdaySaturdaySaturdaySaturdaySaturday song stuck in my head. It's Saturday, and that means Sky Time.
This is the photo from this morning:
Here is a photo from this afternoon: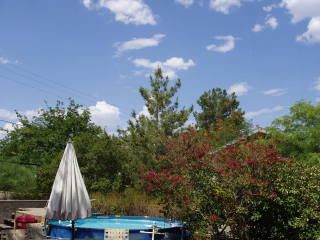 Looks like a nice day, right?
WRONG.
In Arizona, "sky blue" is a HOT color. I have been running errands with the Bug for the last three hours, and we're melted. The sign on the bank near my house said 115. It feels like it. Then, at my last stop, the power went out. It was hot and sticky in the yarn shop. The lights were out down the street. And the cops came. I would personally like to have my taxes raised about 10% just to give compensation to the guys who stand on the hot asphalt in Arizona in July at 2pm in black uniforms with long pants and direct traffic, which then blows hot exhaust all over them. And they manage to look like it's no big deal. Crikey.
Anyway, this is all to smokescreen the fact that I have no knitting to show. I have been working on that green sock for days. The leftover ball has been 1/2" in diameter for about a week now. I'm in the black hole. Only this time, I'm making visible progress on the sock, but the yarn never diminishes. It's killing me.