Yes, contrary to what DH thinks, I do occasionally finish things. (And if he ever mentions it to
you
, ask him about the trim in the office.)
Here is the half FO: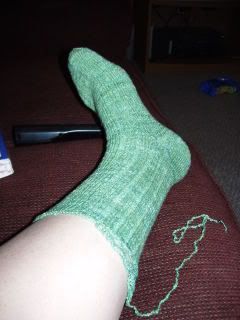 One green sock down, one to go. Please note in the picture how much yarn is left of the ball. I love it.
Here is the whole FO:
Ha ha, I got you, you thought it would be a knitted thing, huh?
Everyone is making or buying or swapping for these cute little knitting bags, and I always think, "Hey, I could make that!" So yesterday, I did. I would have liked a drawstring, but since I didn't have anything handy that I wanted to use for a drawstring, and I thought it sounded complicated, it's just open on top. The wrist strap
will allow me to knit while I'm riding my stationary bike. I'm slowly whittling away the excuses about riding. (Now I'm down to the biggie: arse pain. That, and the whole laziness thing that got me all flabby in the first place.)
It's shaping up to be another hot nasty day. Fortunately, I have no place to be, no errands to run, and just a few chores around the house.
Now, I must run. The Bug is making that chirping noise that I have come to realize means, "I'm going to get that keyboard this time!"