So, the Harlot described me as the mother of a beautiful baby. (I gotta say, I beamed with pleasure when she said that IRL. Cuz she's seen a lot of babies.)
Anyway, since I have no knitting to post, and since I didn't take a picture of my bombyx top yet, and since I need very little excuse to show off my little man, here are some Bug photos.
(New skill - making thumbnails that open a larger image when you click them. Actually, my new skill was identifying the code source in someone else's blog, copying it and modifying it for my own use. Anyway, click for bigger photos.)
He's a standin' fool.
Paper crinkles in such a satisfying way.
Mama, I just love spaghetti.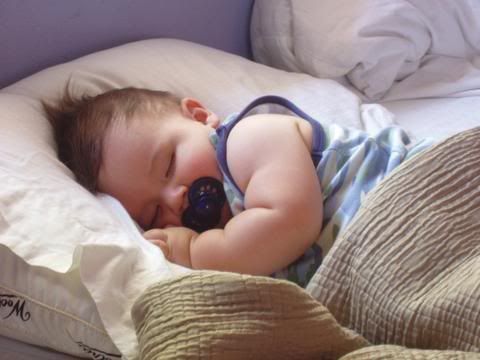 Being cute is exhausting. Hmmm, this pillow smells like Daddy.
Even when he's grabbing my knitting, he's my little joy.