And I got to see her! Hooray!
What a great experience. She's funnier in person than she is in text, and I think that's sayin' something. Of course, this isn't anything that hasn't already been said, but I'm adding my voice to the chorus.
I took the afternoon off, and my buddy Lynn and I drove up early and had dinner, then wandered over to the
shop
. What a GREAT shop! They had looms and rug weaving equipment, roving and spindles and wheels, and more yarn that you can shake a needle at. There was one bit of bombyx top that called and called to me. I couldn't put it down. I petted it all night. (It came home with me. I will learn to spin later.)
My favorite part of the evening was when I incited her to say "arse". I am easily entertained and apparently a bit puerile.
And now, for some pictures.
Blogging the blogger: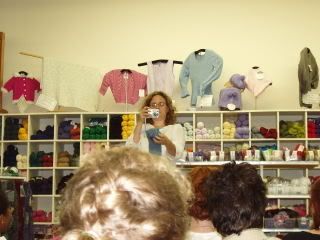 The requisite sock photo
Having my books signed: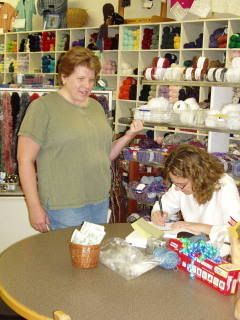 I was so excited that she recognized me that I still haven't read what she wrote in them
Mutual sockitude:
My sock is now two degrees of separation from Stevie Ray Vaughn.
Blogging while being blogged:
I hope the leaning back thing was her eyesight, and not her thinking, "Damn I need a wide-angle lens."
All in all, a great time was had by me and everyone I talked to. Next time she comes through, assuming she's not coming to Tucson, I will make plans to spend the night, or at least take the next day off work, so I can find that woman a good Arizona beer or six. And some margaritas.
Thanks for a good time, Stephanie! I hope Arizona treated you well.