Isn't that how the spammers spell it?
My innocent little (or not so little) box of yarn came yesterday. The rest of my binge is here. I managed to nurse the Bug before I ripped it open, but as soon as I finished and Papa got home, I abandoned them both for The Box.
Here it is, in all its glory: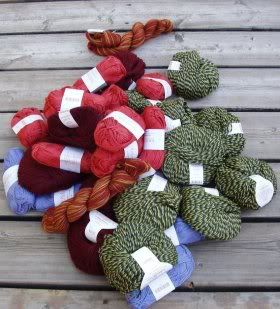 I just realized I should have included something for scale, but it's too late now!
Here is a pic of the contents of that pile:
From left to right:
Is it a little scary that I noticed there were six new yarns on Knitpicks before they were marked as new? Should I worry that I know their product line that well?
Anyway, I can't start any of these projects until I get it together and finish some that are in progress already. It will be so hard to wait!