Thank goodness.
That means it's sky time.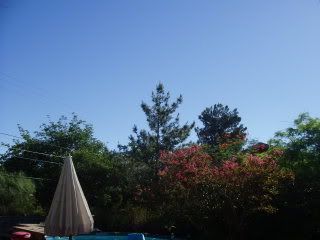 This is soooo misleading. Yesterday we had a huge crazy storm and got 4/10s of an inch of rain in about 20 minutes. It was awesome, and I was sad that it was over so quickly.
It's also July, which means it's project spectrum purple. I haven't seen much purple in blogland, I wonder if most are just too hot and tired to think about purple. I wear a lot of purple, but don't have much. I have that purple grape-y sock yarn I died, but as I didn't finish May's green socks and didn't even
start
June's blue socks, I don't think I'll cast them on just yet.
I do have this.
It's a shawl/wrap thing for my MIL. It's actually not nice at all, bulky acrylic yarn and fun fur stripes, but I made a scarf out of the same stuff (in pink) for my niece last Christmas, and MIL loved it. So she gets one. I think I will try to add some neck shaping so she can wear it comfortably in her chair.
I'll be knitting all weekend, pending approval by the boss: