We have been away. Last Monday DH received a call that his mother was dying, so we scrambled to find plane tickets to Montana and flew away. We actually had to fly to Spokane and drive to DH's hometown, about four hours away, so we didn't get there until Tuesday. When we arrived, we found MIL sitting up and smiling, thrilled to see The Bug and feeling much better. Fortunately for all of us, she rallied and was stable and feeling reasonably well when we left. We were granted more time to spend with her, and DH got to sit with her and talk for hours, and she got to see her youngest grandson, and we are thankful.
I didn't get as much knitting done as I would have liked. I didn't touch Tendrils, but did make a dent in the last ball for Clapotis. I spent way too much time chasing Bug away from all the detritus that forms the household of an old woman. Unfortunately it was a little too cold for him to play outside much, especially since the ILs don't have a fence, and the Bug had his eye on the neighbor's swingset. He had to burn off all that toddler energy playing with the VCR, shredding MIL's magazines, unloading all the cabinets in the kitchen, and banging on the china cabinet full of hummingbird figurines. Poor FIL was at his wits' end - there was no place for him to find peace. I think he was glad when we finally left.
Anyway, this is my artistic Clapotis picture.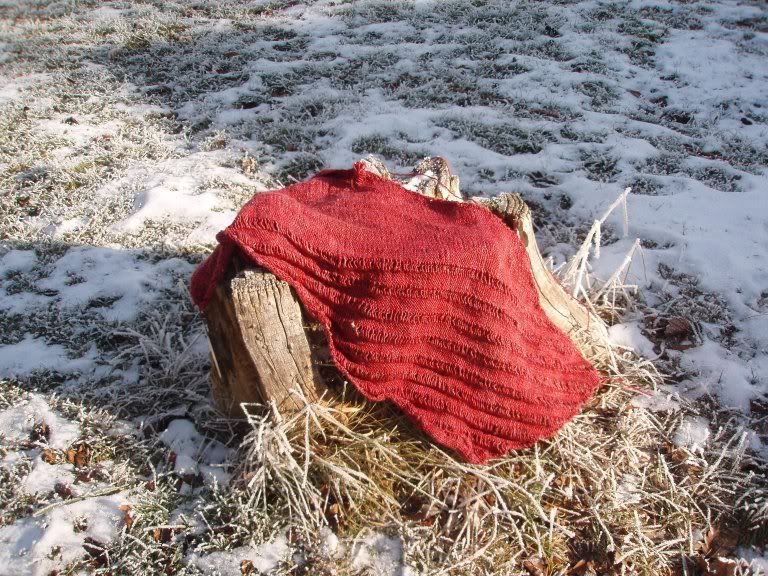 It's all I have, though with some diligent effort I think I can finish that puppy this week. It would be much easier if that pesky work thing didn't get in the way.
And now, if you'll excuse me, I'll be off reading the 300+ new blog posts on my Google reader. Whew.
Oh yeah, and I have some yarn to give away for the
Red Scarf Project
. Keep an eye out for some form of contest or another. Maybe I'll just make you comment and then pull a name from a hat. I'm lazy like that.
Yeah, that's it. Leave a comment in this post (only this one, I'm too lazy to compile names from other places) and any names in there before Boxing Day (12/26) will be placed in a hat. The first one Bug chews on will get three balls of Knitpicks Swish in either brick or bright red. I'd prefer you use the yarn for the Red Scarf orphans, but really, it's up to you.
(ETA: I should probably not have tacked that little yarn giveaway on the end of a depressing post - thanks for the well wishes, but you get entered in the contest even if you only write GIMME THE YARN, BITCH in your comment. Although I might spit on it if that is your comment, and you win...)