This weekend was one of work and toddler wrangling. DH spent most of the day Sunday building the railing around the deck to keep The Bug from flinging himself headlong into the pool. I spent the day doing laundry, endless dishes, and entertaining The Bug. He got his very first crayons on Sunday. Did you know that putting crayons in the box and taking them out again is infinitely more exciting than drawing with them?
I also got a case of Startitis. Even though my Hogwarts yarn is due any day, and I have Faina on the needles, I couldn't help starting the eyelet cardigan from Classic Elite and the round 4 sock from Sock Madness. (Mad Weave, I think) I also played with my wheel and practiced treadling. It helped me to get a slow rhythm going before I tried to spin anything, and I felt like things were much more even once I got warmed up. I spun all the koolaid roving I had, so I attacked the egg dye kit.
Purple, blue, green, yellow.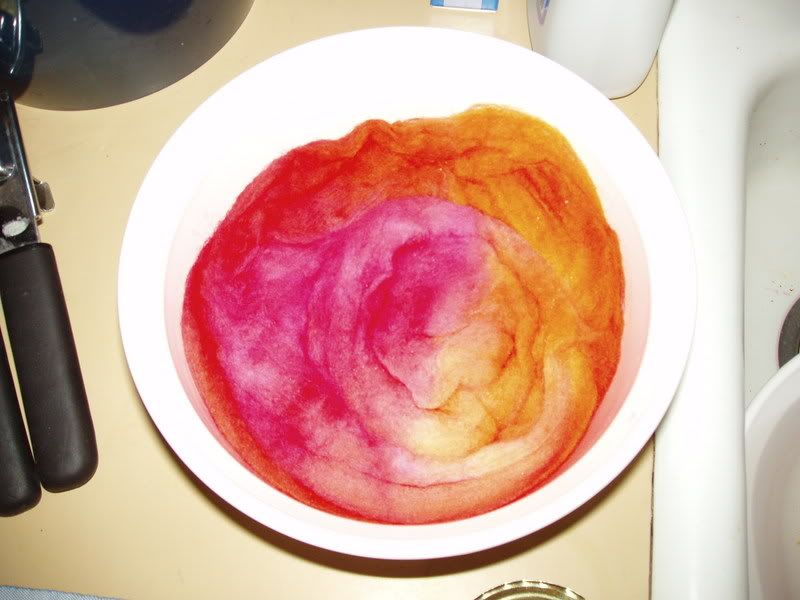 Red and orange, with some extra food coloring drops added.
They look even neater dry - very bright and happy and summery. Just what you want from your wool.
Yesterday I went to the chiropractor for a long-overdue adjustment. He beat the crap out of me. Last night I was freezing, achy, tired, and sore. I felt like either the onset of a cold or the end of one, where you're all wiped out from the effort of blowing your nose or walking to the toilet. All I could think was, "Wow, I had some bad stuff pent up in my shoulders." I don't think I'm getting sick again, I just think my body is using all its energy to get used to being aligned again. Here at work, the coldness has returned and I'm a little achy, but less so than yesterday. I think maybe tomorrow's chair massage will be more beneficial than usual, and maybe I won't wait so long to see the chiropractor next time.
I do love me some kibble.